Welcome to brendanconstantine.com
Welcome to Brendan Constantine's website. Known for his dreamy abstraction and the emotional ferocity of his work both on the page and on the stage, Constantine has helped to sustain the poetry communities of Southern California. Mr. Constantine serves these communities as a teacher of poetry in local schools and colleges as well as hospitals, elder care centers and shelters for the homeless. He is currently poet in residence at The Windward School. Brendan is also very proud of his work with the Alzheimer's Poetry Project.

Please see my updated calendar for 2014!
---
Poetry Super Highway Poet of the Week!
Brendan is one of the featured 'Poets of the Week' on the Poetry Super Highway website. Check out his 2 poems here!
---
Books by Brendan
---
New video for the poem 'The Translation'
I am deeply honored and totally blown away by filmmaker Sarah Jensen's adaptation of the poem 'The Translation' from the book Birthday Girl With Possum. I hope you enjoy it. Please look for Ms. Jensen's work and Hello Margeaux Productions at YouTube, Vimeo, and at http://hellomargeaux.wordpress.com/
---
"The Last Thing I Want To Do is Hurt You" video
Performed by Brendan at Write Bloody's "Big Ass Poetry Show" in New York City!
---
Brendan Constantine featured on the PoetryLA Interview Series
---
Brendan Constantine Performs at the Hellenic American University, Athens Greece - Summer 2013
Thank you to the wondrous students at the Hellenic American University and their brilliant teacher Adrianne Kalfopoulou. Learn more about the HAU here: http://www.hauniv.us/
---
Brendan Teaching at Hillsides in Pasadena
---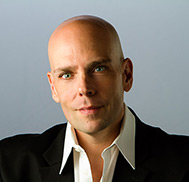 Brendan Constantine is a Southern California poet and champion for the literary arts. He teaches at the Winward School and is well known for his workshops at Venice's Beyond Baroque. He performs his work across the United States.(more)
Author photo by Larry Berger