Calamity Joe / March 2012 / Red Hen Press
Brendan Constantine's Calamity Joe is his second collection from Red Hen Press and his third book in three years.

Click here to purchase Calamity Joe

" Once there was a man who worked in a lab..."

Calamity Joe is the pen name of a mysterious narrator in a new kind of poetry collection. Spending his days in a laboratory, talking to mice & microbes, he will soon be the last living member of his family. More and more life seems to hint at its syntax and Joe feels that he can just make out the page he inhabits. Drastic measures are called for, but for what?
In this astonishing third collection, poet Brendan Constantine hasn't attempted a 'novel in verse,' so much as revealed a complete psychology, stanza by stanza. Open it anywhere and be rewarded with poems that stand alone; read it from the beginning and discover the deeper context that ties every image together.
Praise for Calamity Joe
"A story is a house told by rooms, says Brendan Constantine in his new collection, Calamity Joe, while a poem [is] one window flooded with light. One of this book's great pleasures is that Constantine—and so the reader—manages to have it both ways, to give us both the poems, full of Constantine's usual wit and energy, and also the story, which suggests itself and unfolds in the spaces between poems and in their conversations, both with each other and with us. Calamity Joe is a splendid house, and its windows are blazing, whether you are standing inside or out.

-- Katharine Coles, author of Fault

In Calamity Joe's world, language works as an electric lens through which our world shines back as still ours, but renewed and refreshed. Flamingoes live in a house with plastic people on the lawn. The splendors here remind us that we can realize and appreciate so much more than what we can merely recognize. With a remarkable attention to craft—internal rhymes, repetitions, unexpected rhythmic swervings—Constantine's poems issue forth from a voice "charged" by all it's seen along the way. I found these poems compelling in every good way.
-- Nance Van Winckel, author of No Starling

"Calamity Joe" -- much like "the shield of Achilles" -- is a convex mirror where the world is part Eden, part slum. Brendan Constantine is a dependable guide through the calamities of "a bottle gutted" world: to the Injured and the Poetry that survives
and thrives there. The poems are landscapes and inscapes woven from the wilderness of childhood and the aftermath of calamities and crimes. No howling. Urgency and shame temper the music to a compelling and sustaining song of our damaged world. Constantine's marvelous new third book is both Mirror and the World and Music reflected there. Constantine's "Joe" takes up where Berryman's "Henry" left off.
-- Scott Hightower, author Part of the Bargain
Reviews
Read Isaac Dwyer's review of Calamity Joe at Paralax -
http://parallax-online.com/a-triumph-for-joe/

Read J de Salvo's review of Calamity Joe at The Bicycle Review -
http://www.thebicyclereview.net/editorials-and-features.html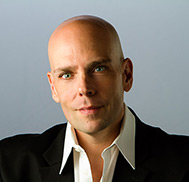 Brendan Constantine is a Southern California poet and champion for the literary arts. He teaches at the Winward School and is well known for his workshops at Venice's Beyond Baroque. He performs his work across the United States.(more)
Author photo by Larry Berger.